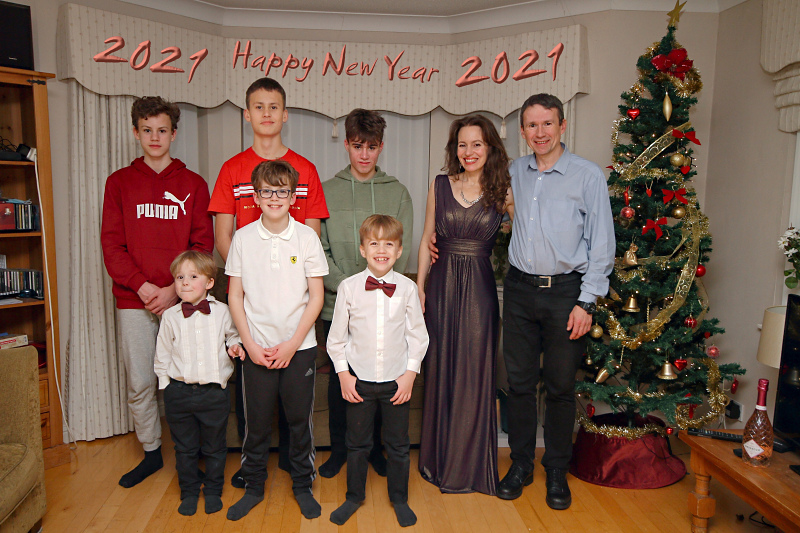 With this happy family photo we are braving into 2021 with moderate optimism but full of hope. Optimism is moderate as the world seems to be going through a turbulent period, and it is unlikely that the all the problems will disappear overnight, but we are full of hope as we know that, at the end of the day, God is in control and will not abandon us in this "valley of tears". As a family we must be grateful for the good health, prosperity and safety we have enjoyed in 2020. Despite all the restrictions and limitations to freedom we have experienced, we cannot really complain. We are all well fed and still relatively good looking, no? 🙂
We only hope that those who did suffer most during the past year will find some consolation and rapid improvement of their situation in the coming months.
Wishing you all the best for the New Year 2021!
Z pomocą tego wesołego rodzinnego zdjęcia, w nastroju umiarkowanego optymizmu, ale pełni nadziei, wchodzimy odważnie w Nowy Rok 2021. Optymizm jest umiarkowany, gdyż świat wydaje się przechodzić burzliwy okres i jest mało prawdopodobne, aby wszystkie problemy zniknęły z dnia na dzień, ale jesteśmy pełni nadziei, ponieważ wiemy, że cokolwiek by się nie wydarzyło, Bóg ma nad wszystkim kontrolę i nie pozostawi nas samych. Jako rodzina musimy być niezmiernie wdzięczni za zdrowie i bezpieczeństwo, którymi cieszyliśmy się w 2020 roku. Pomimo wszelkich ograniczeń wolności, jakich doświadczyliśmy, grzechem byłoby się uskarżać na los. Wszyscy jesteśmy dobrze odżywieni i nadal stosunkowo dobrze się prezentujący, nieprawdaż? 🙂
Mamy tylko nadzieję, że ci, którzy najbardziej ucierpieli w minionym roku, w najbliższych miesiącach znajdą pocieszenie i szybką poprawę swojej sytuacji.
Wszystkiego najlepszego w Nowym Roku 2021!